CocoaHeads Thu Nov 12: Designing for iPhone
The
Briefs
framework, created by Rob Rhyne, gives you a way to quickly build working prototypes of iPhone applications. It made a big splash at C4, and has generated
quite a bit of buzz
with Cocoa/UI nerds. Rob has agreed to speak at CocoaHeads on Thursday, November 12 at 7pm. The meeting is in Garage 1 at Infinite Loop 4 at Apple. This is a new talk covering iPhone design techniques, using Briefs as part of the workflow.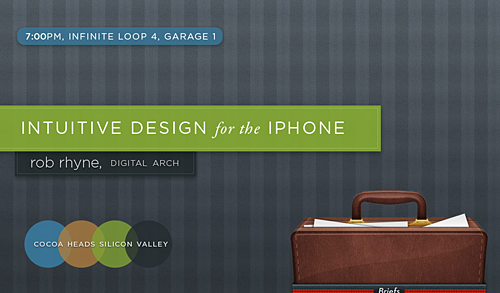 Here's the description from Rob:
Designing user interfaces is a lot of work. It's misunderstood and often under-valued. It's viewed as a luxury, an add-on — a playground for hipsters and artists. On the iPhone, however, design is necessary to build a successful product. The catch is that the perfect design cannot be derived or solved — it must be discovered! What are the right questions to ask? How do you know what works and what doesn't? What is special about designing for the iPhone?

This Thursday I'll share tips, some tricks and a simple process to follow which encourages new thinking about how your iPhone app works. The process emphasizes speed and validation by actually using your product before it's built. I'll also talk about some of the tools I use, including a toolkit I've built called Briefs. (http://giveabrief.com)
Thursday, November 12 at 7pm (sharp)
Apple Infinite Loop 4
— Garage 1 Meeting Room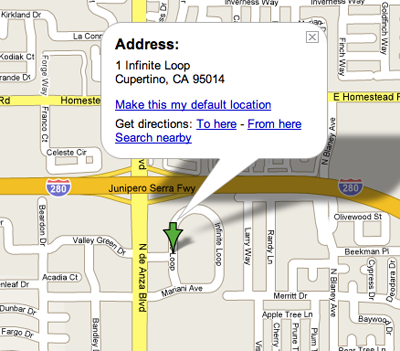 (
If you enter from the main driveway at 1 Infinite Loop, drive around the circle until you see the big red "4" in front of Building 4.
)
See you there.