CocoaHeads WWDC 2009: Wed June 10
I'm very pleased to announce a world-class lineup for CocoaHeads WWDC 2009 on Wednesday, June 10 at 7pm. We have a mix of new and returning speakers, designers and programmers, and a combination of both Mac and iPhone content. And if that doesn't sell you, we have an epic poster.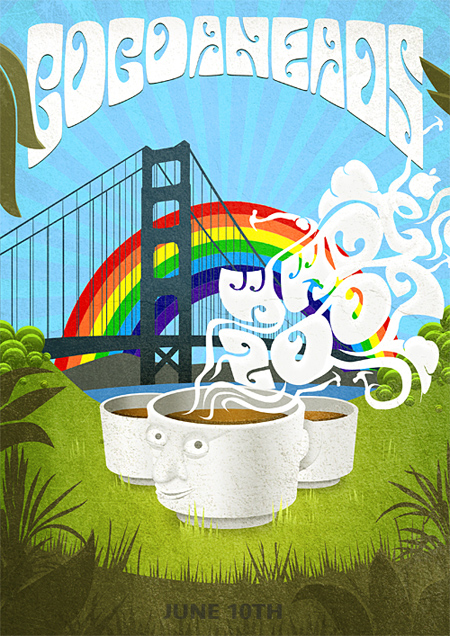 I asked one of this year's speakers,
Sebastiaan de With
, if he knew anyone could put together a poster for our event. Instead, he just did it himself. The only guidance I gave him was to do something in the
Fillmore concert poster
style, and he totally hit it out of the park. There are a number of hidden details if you look closely, and be sure to read the
accompanying tweet
.
On the guest list, Wil Shipley of
Delicious Monster
has agreed to return to present again for the WWDC audience after delivering a fantastic talk to our local group recently. So if you felt like you missed out then, now is your chance.
Dirk Stoop of
Sofa
is another returning speaker from last year. I'm told he's cooking something up something interesting to talk about about, but we don't have the details just yet. Last year's talk was very well received, so I'm looking forward to what they have this time.
Francisco Tolmasky of
280 North
is also returning after presenting at last year's CocoaHeads WWDC.
Cappuccino
has come a long way since then, and has a brand new UI developed in conjunction with Sofa. 280 North's visual development environment for Cappuccino,
Atlas
, is nearing completion as well, so we hope to see some fancy demos.
A first time speaker for CocoaHeads,
Sebastiaan de With
(
creator of the poster above
) has designed many Mac and iPhone apps you're heard of and have probably used. He designed the
interface for Classics
, one of my absolute favorite iPhone apps, and one of the co-stars of an iPhone commercial. Sebastiaan will talk about some interesting projects he's been working on recently.
We're also very pleased to have Joachim Bondo of
Cocoa Stuff
for the first time, who will talk about creating the
Deep Green chess app
for iPhone. If you haven't seen this app, check out the videos on the site to see how well-conceived the user experience is. Also check out the
glowing review
by John Gruber.
CocoaHeads WWDC 2009
Wednesday, June 10 from 7pm to 9pm
Apple Store San Francisco
One Stockton Street
San Francisco, CA 94108
415-392-0202
We will not be able to record video, so you need to show up in person if you'd like to see the talks and meet everyone. We're all looking forward to meeting you Wednesday night and throughout the week.
See you there.