CocoaHeads Thu Apr 23: Wil Shipley on iPhone
The next CocoaHeads Silicon Valley meeting is this Thursday, April 23 at 7pm. Our featured speaker is
Wil Shipley
of
Delicious Monster
, who will share what he's learned while writing his first iPhone app. I'm told this is the first time the app will be shown to the general public, so you may get to see something special.
Let's let the poster do the talking.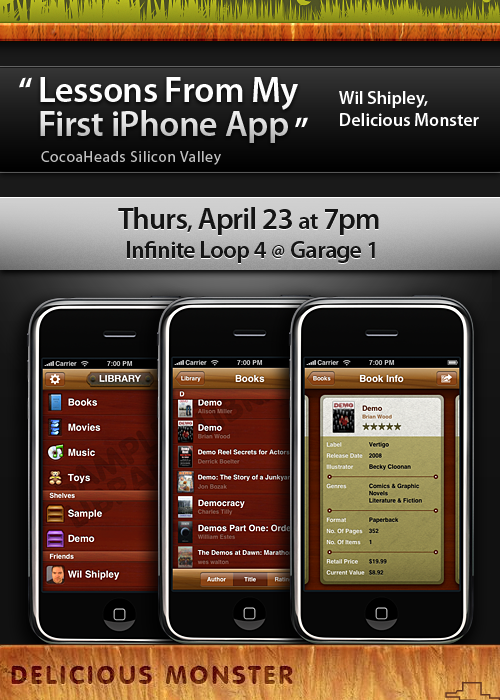 Thursday, April 23 at 7pm (sharp)
Apple Building 4
— Garage 1 Meeting Room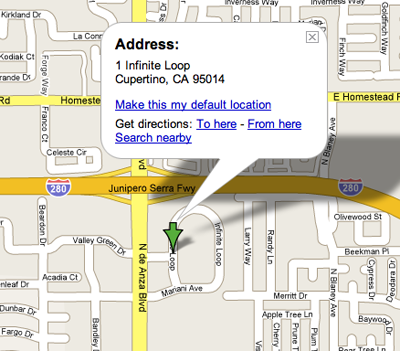 (
If you enter from the main driveway at 1 Infinite Loop, drive around the circle until you see the big red "4" in front of Building 4.
)
Wil is a two-year veteran of our special "WWDC edition" CocoaHeads get-together in San Francisco, but this is his first visit to a local meeting in Silicon Valley.
For those new to the scene, Delicious Monster is among the most successful independent Mac developers, and has been a driving force in the platform's shift from purely function, generic UI designs towards apps that take style and character into account.
Additionally, Wil's
Student Talk from WWDC 2005
was something of a turning point for the community. It explained — arguably for the first time — why making Mac software was not only more fun, but often more
profitable
than writing software for other platforms. Many Mac developers in business today were inspired by that presentation.
Wil is both a talented engineer and an engaging speaker. I guarantee you won't be bored and you probably won't leave without gaining at least a few significant insights into the iPhone SDK. It's also worth noting that while we have had presentations on iPhone before, this is the first from the perspective of third-party developer with long-term Cocoa experience.
See you there.