CocoaHeads Dec 11: Google Earth iPhone
At CocoaHeads Silicon Valley this Thursday, Dec 11, David Oster of Google will talk about the development of
Google Earth for iPhone
(
app store
) — one of most interesting early iPhone apps from a big-name developer. Sony has graciously offered to host us this time at their San Jose campus.
David is veteran of CocoaHeads Silicon Valley, and has presented talks on various Google Mac projects at our meetings before. He's an experienced Cocoa developer who has written quite a bit of the code that's available at the
Google Mac Developer Playground
. This will be a hands-on presentation, with specific insights into creating apps with the iPhone SDK.
Because of the special venue, we encourage everyone to
register online
before Wednesday evening. In this case, "register" just means typing your first and last name into a web form and hitting the submit button. You can still drop in on Thursday night if you don't register ahead of time, but you'll have to sign in before entering the meeting room. Basically, registering online makes life easier for our hosts.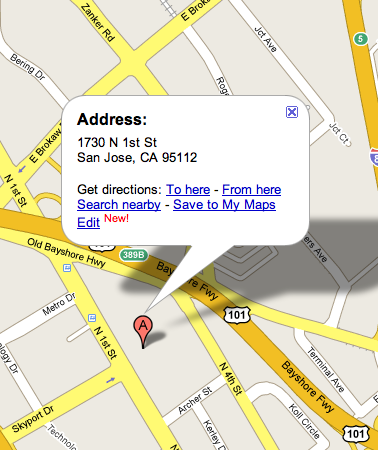 Thursday, December 11 at 7pm
Mount Hamilton Room at Sony
1730 North 1st Street
San Jose, CA 95112
See you there.