Site Design for Marathon Flag Football
Sometimes it's worth mentioning a side project that doesn't directly relate to Mac or iPhone development.
Play Flag Football
(
this isn't the one I designed
) is a non-profit youth football league in the SF Bay Area that I help out in a number of different ways. This time, it was a site design for a record-breaking flag football event.
The gist is that twenty players will attempt to set a new world record for the longest continuously-played flag football game. The proceeds will benefit the non-profit, and John Mora asked me to put a design together. This is what I sent him.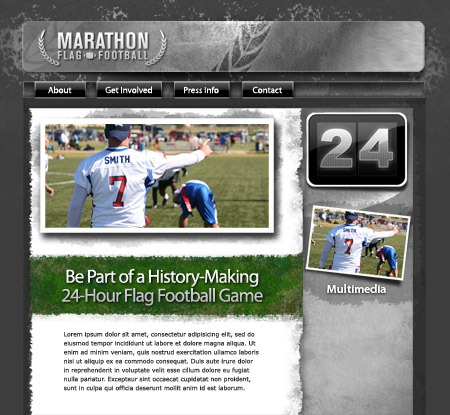 In many cases, I think a big part of ending up with a design you like is homing in on one key concept and returning to that in different elements so they all feel like they fit together. In this case, I stumbled on the rough metal textures, the grass as the divider, and the leader board numbers, and everything just sort of fell into line after that.
I often don't always know what direction I'm heading in when I start. The longer I do this, the more I believe in the power of just trying different ideas out — whether it seems like they'll work or not. The dark horse can surprise and end up as the winning design. Sometimes I have a really strong initial impression, and sometimes it can take quite a while for the spark to light. But once an idea takes hold, there's no stopping it.
In those cases — when something feels really right — I feel more like the facilitator than the creator. The surface thought just gets the ball rolling and then something else takes over.
The most satisfying part of this design for me is that the individual elements are nearly photorealistic in many cases, but there's no real-world thing be modeled on the whole. The basic structure is still the quadrants that people are used to for web sites.
I also like that all the background grayscale elements really allow the colored photos and grass header to shine. This is just a mock up, of course, but the final design looks quite similar. More details on the event are
available here
.